 5 Examples of Couture Fashion Marketing Done Right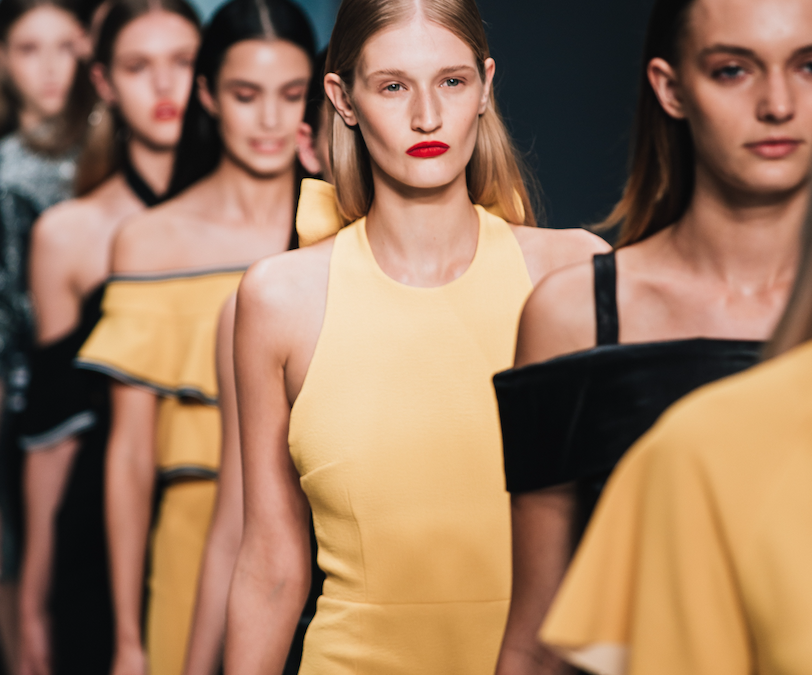 5 Couture Fashion Marketing Wins!
When it comes to fashion, we love putting our best foot forward. Couture brands know exactly how to help us achieve just that. Wonderful companies full of potential are being birthed every moment, but there are few who can stand in the presence of legacy brands.
With the financial capacity to invest in larger than life marketing, here are some of our favourite fashion ads that are just as grandiose and bespoke as the garments they produce.
Burberry's "Close Your Eyes and Think of Christmas" Campaign:
While this one is from last year, it's a classic none the less! This Christmas piece was created at the end of 2018 and showcases a slew of British icons in an ad that celebrates English diversity and culture.
Burberry's retail renaissance in the early 2000's helped catapult the label back onto the world stage. It's now considered England's most quintessentially British brand. This ad further perpetuates this by showcasing the best of British in the Burberry's signature pieces against characteristically Britannic backdrops.
The complete visual mastery of the whole piece is poetry in motion, exuding that if you want to master British chic, you'd better be in something with the Prorsum logo. This is storytelling and word association at its finest.
Karl Lagerfeld's Winter Wonderland Show:
In honour of the late, great designer, Chanel's Winter Wonderland show was an incredible feat that showcased the vanguard sartorialist's final collection against a scenic Swiss Alps backdrop. All of which was in-fact built indoors!
The runway spanned a hefty 8 meters width and a solid 50 meters in length, all of which was adorned with fake snow, matching seating and set design that looked like the models were truly walking through a ski lodge.
If the location wasn't breathtaking enough, a bevy of high profile celebrities were also invited to walk the runway, including Penelope Cruz, Cara Delavigne, Kaia Gerber and more.
The event ended with a very touching display of heartfelt condolences and tears from models during their final walk. What better way to send-off one of fashion's elites as well as showcase the opulence of the Chanel brand.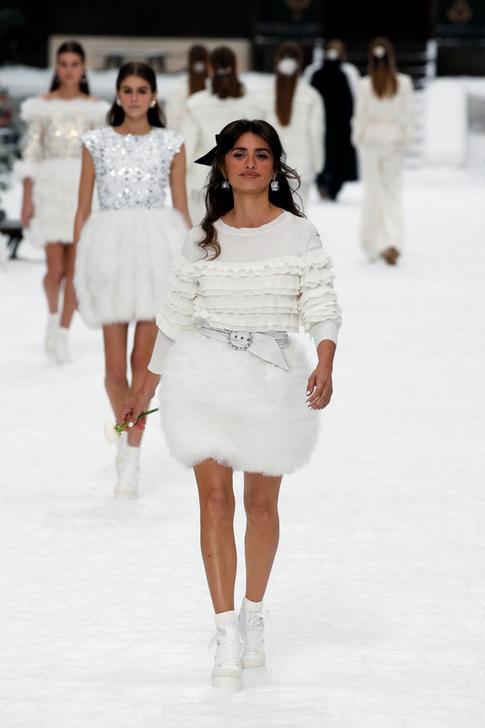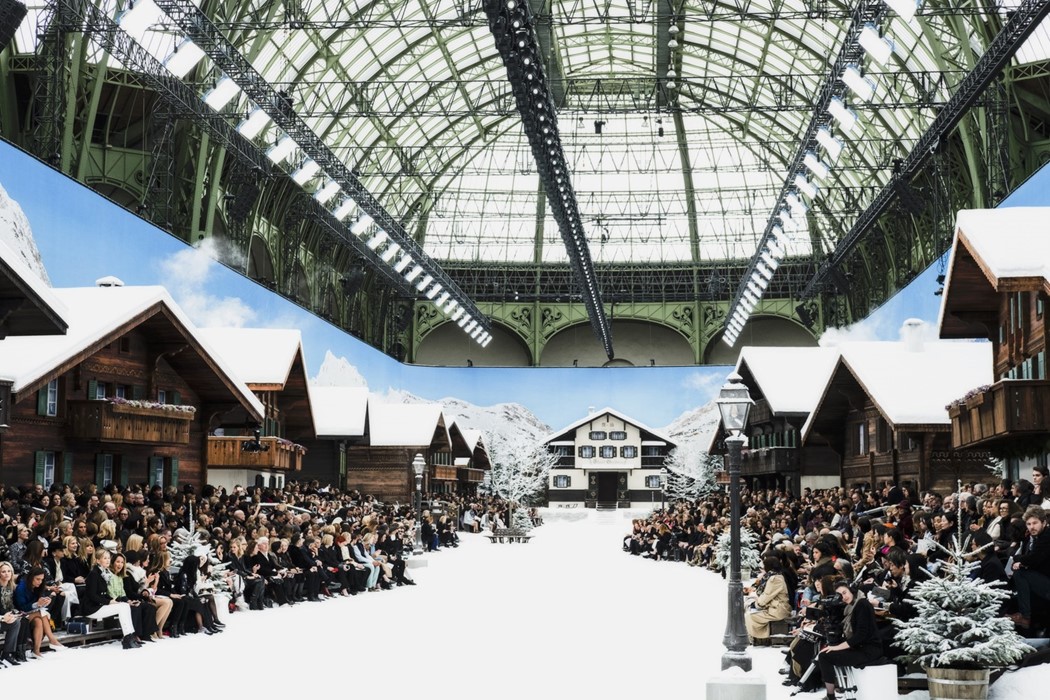 Christian Dior Beauty and Bella Hadid
Whilst this Instagram segment was made specifically for the brand's makeup line, we felt that it was an incredible piece of marketing that highlighted the brand as a whole.
Here we see fashion icon Bella Hadid scaling MC Escher-esque stairs in an ad that showcases Christian Dior Makeup for Halloween. Whilst this might not ordinarily sound engaging, the mise-en-scene of the ad itself is reminiscent of German expressionist-noir-silent era films à la The Cabinet of Doctor Caligari.
Visually, you won't find many ads like this. Commercials these days are dominated by minimalist, neutral colour palettes with little character or dramaticism. This refreshing video showcases the product as well as a dramatic tone. Not to mention a social media starlet; Making it a piece of marketing that is most memorable.
Gucci Showtime Spring Summer 2019
Our favourite offering thus far. This big-budget Gucci ad radiates brighter than any brand's marketing at present, showcasing a "golden era of Hollywood" vibe. Think back to the musical greats of MGM, from Gene Kelly to Esther Williams, it's all jam-packed in this ad.
Unsettling breaks of silence and odd camera angles help bring the ad back into the present era, allowing the viewer to take everything in, including the outfits worn by the models (which are the products for sale after all).
Whilst the ad is already extremely stunning, it's actually a component of a larger campaign called #showtime which showcases a string of faux interviews with faux celebrities, all of whom are going to the premiere of a fake film named after the campaign. With unusual circular content to supplement the ad, this is an interesting piece that keeps people engaged and keen to learn more.
Virgil Abloh's Plastic Show at Paris Fashion Week
Is there anything he can't do? Virgil Abloh started out as a keen upstart in the fashion industry in 2009, interning at Fendi in the same class as Kanye West. Virgil went on to become the first African American to become the creative director of Louis Vuitton not long after.
Not only did he come from a background in engineering and not only does he have a demanding family life with two beautiful children, but he's a touring DJ, visual artist and all round renaissance man who has achieved cult success despite the odds stacked against him, one in particular, being too good at everything.
His latest collection labelled "Plastic", debuted at this year's Paris Fashion Week, an allegorical compendium that touches on the polarity experienced today by society as a whole. Plastic, after all (rather than paper) was seen as the more environmental choice 20 years ago when grocery shopping. Now it is seen as an evil that's destroying delicate ecosystems and ruining our planet. Talk about a difference in opinion over such a short time!
Abloh's pieces were in fact created from recycled plastics and encouraged audiences to reduce, reuse and recycle. While the content itself was a win, we loved the storytelling used to market the event and the message.
By far, one of the most meaningful and well thought out fashion shows to date.
While we love the work and investment put into all of these campaigns, you don't have to spend millions of dollars to create a strategy that's equally as powerful. Partnering with the team here at King Content is an excellent means of kick-starting your marketing. Not only can we make you incredible content but we have an incredible team of specialists at hand to assist you throughout your entire campaign. For powerful ideation and a meeting with our team, get in touch for the King Content difference.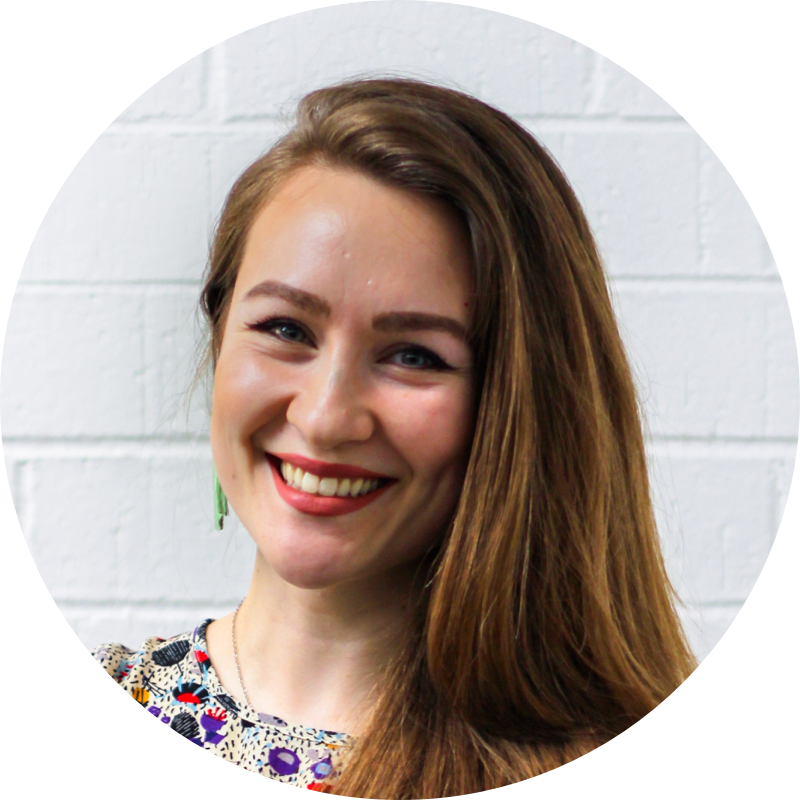 Get Started Now
Built from the ground up for your audiences, we speak your language, your way. No matter where in Australia you're located, our specialists can deliver content marketing services that attract the right kind of attention.
Send us a Breif